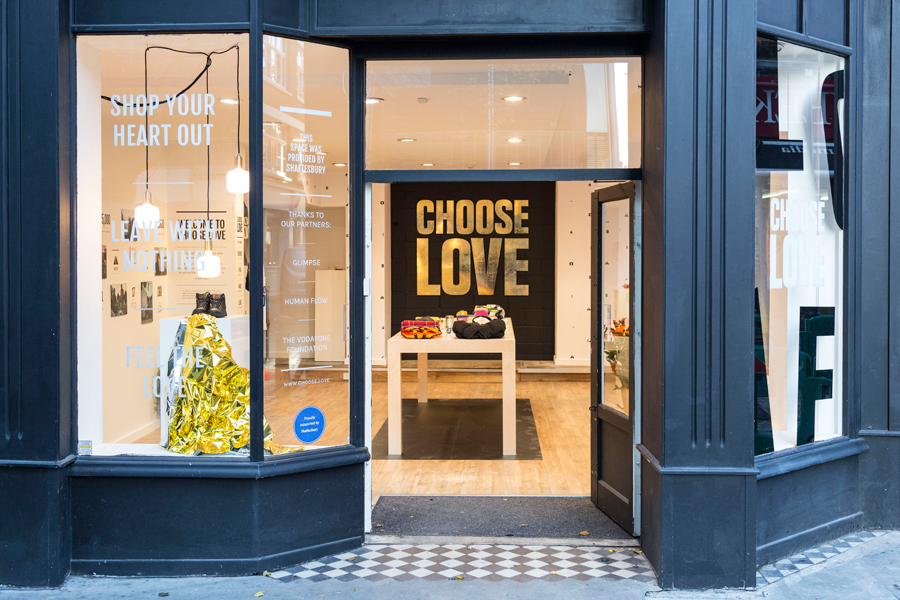 Pop-up stores offer so many incredible benefits for brands: they're a tool for generating a buzz, showcasing a collection, and experimenting with new markets, locations and products. And in 2018, they can be a force for social good too.
This year has seen the rise of the pop-up shop design with a cause: stores, exhibitions and experiences with social good at their heart. Whether it's through a high-end spin on the high street charity shop or an immersive experience that spotlights a social issue, brands and charities are beginning to tap into the potential of pop-up shop design to promote a new type of social action.
A new spin on shopping
Shopping doesn't have to be all about buying; it can have giving at its heart too. That's the message of Choose Love, the latest pop-up to hit Carnaby Street. Set up by the charity Help Refugees, the shop invites customers to buy a range of essential items for refugees, including solar lamps, sleeping bags, and baby grows. The store allows visitors to interact with the items and learn about why they are needed through the images and stories on display – all taken from the frontline of the refugee crisis.
Nestled between the high-end shops of Carnaby Street, Choose Love shows how social pop-ups can become part of the fabric of the high street.
Brand x charity collabs
Charities aren't the only ones taking advantage of social pop-ups: established brands are now collaborating with charities to create memorable experiences. In April, Harrods and Cadogan partnered with NSPCC to create the Fashion Re-told store on Sloane Street. Packed with pre-loved high-end and designer items, the pop-up store offered customers the chance to pick up a bargain, all while raising money for charity.
Dubbed the "world's poshest charity shop", the edit was carefully curated by the Harrods team to ensure it matched the brand's exacting standards. Selfridges, on the other hand, took a much more hands-off approach when it came to launching its pop-up charity shop back in 2017. Designed by offbeat artist Miranda July, the inter-faith shop sold everything from preloved costume jewellery to bric-a-brac. Its purpose? To shine a light on the performative idea of shopping, in particular the nation's unrivalled love of charity shops. "Nowhere else I know in the world has such an eclectic and diverse array of charity shops," July told Wallpaper Magazine. "There's so much hope in that."
Immersive experiences
Social activism can feel a world away from the experience of shopping, even it is all for a good cause. Immersive pop-ups, however, offer an alternative. Working to connect the customer with the cause, experiential touch points have the potential to tell important stories. Take Pass On Plastic – a pop-up that's just dropped in London's Carnaby. Selling reusable products created by a diverse mix of celebs, the space immerses customers in a plastic-filled world, where even the wallpaper features a mosaic of water bottles, carrier bags and take-out cups. Visitors are even encouraged to commit to changing their habits by leaving a note on the 'Message Without A Bottle' wall.
Long gone are the days where charity's relationships with retail extended to a collection tin by the till. Pop-up shop design is having a transformational effect on how brands and non-profits alike raise awareness and funds. Ephemeral and impactful, these concept store designs have the power to change the way we think about buying and giving, creating new channels for sustainable, responsible and positive retail.