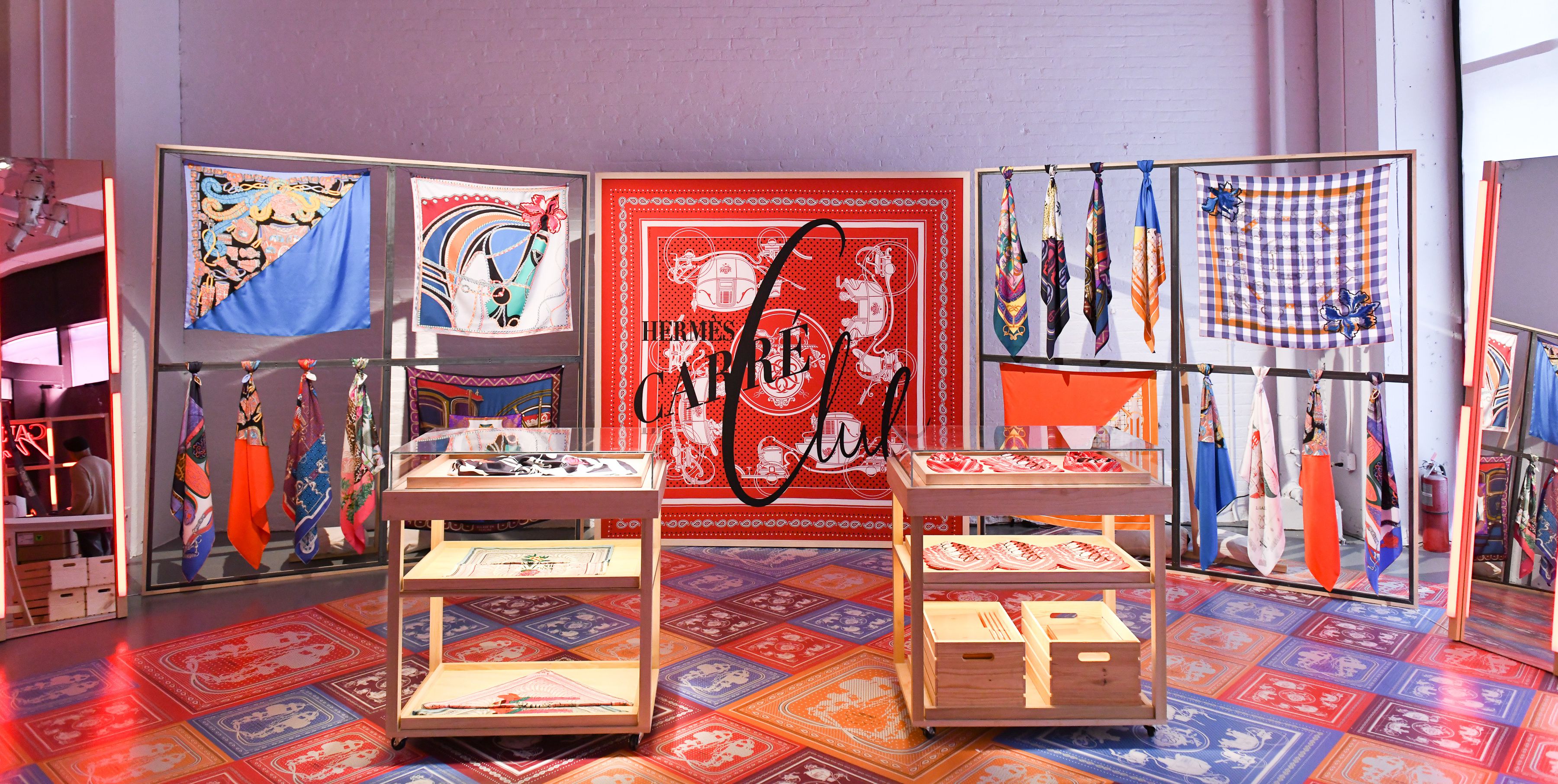 Pop-up shop design has pushed the boundaries of retail this year, giving luxury brands a confident voice, and customers a new playground. From feline-themed stores to stockless shops, the best have enchanted, entertained, and enlightened. Here we round-up the top of the pop-ups: just a handful of the activations, installations and experiences that truly wowed in 2018.
Hermes, 'Carre Club'
2018 has been a vintage year for Hermes' pop-ups. First there was the Hermèsmatic – a laundromat-inspired pop-up shop design that offered complimentary dip dye services on the brand's silk scarves. Then there was the Hermes Carre Club, featuring everything from a cafe and "carre-ok" to an interactive atelier and exclusive design store.
It's one of the best examples of a truly experiential retail space. The sale isn't at the heart of the store, rather the stories, heritage and personality of the brand are organically woven through the whole customer experience.
Louis Vuitton x Grace Coddington, 'Catogram'
Often luxury retail can seem like a pretty earnest affair, but not the Louis Vuitton x Grace Coddington pop-up at Selfridges. Fronted by an inflatable arch designed to look like Coddington's cat Pumpkin, the space was festooned with LV logos, orange monograms and quirky illustrations. Serving as both shop and selfie-backdrop, this was a simple yet pop-up that hit all the right beats.
Read more about the Grace Coddington x Louis Vuitton cat-themed pop-up shop design here.
Coach, 'Life Coach'
Coach is another luxury brand to take experiential retail to a new level this year. Deciding to eschew products in favour of immersive experience, the brand's New York pop-up invited guests to visit different Instagram-worthy rooms. In one, visitors could graffiti on the walls, and in another they could get a tarot card reading.
It might seem as far away from luxury handbags and accessories as you can get, but as Coach's Chief Marketing Officer Carlos Becil explains: "We deliberately wanted to create a new environment and not have the limitations of a pre-designed retail space […] so that every single person that walked through it had a very unique experience and walked out of there with a sense of what Coach was about."
Harrods x NSPCC, 'Fashion Re-told'
2018 has been the year of pop-ups with a cause – retail experiences that have social good at their heart. Luxury retail caught on the act too, with Harrods launching its first ever preloved shop.
Far from the bobbly jumpers and bric-a-brac of high street charity shops, all of the donated stock was carefully selected, dry cleaned and curated by the Harrods team. With a gorgeous blush pink interior, the idea behind the Fashion Re-told pop-up shop design was simple, but it hinted at the potential of a meaningful union between social causes and luxury retail.
Read more about pop-up stores with a cause here.
Cartier, 'Precious Garage'
Cartier well and truly leaned into its industrial influences with the 'Precious Garage' travelling pop-up shop design. Housed in a gold shipping container designed by artist Desi Santiago, the pop-up used rays of light to guide its visitors to different touch points in an otherwise pitch black space. Combined with the elaborate industrial-themed activation events for Cartier's new collection, this pop-up shows the power of performance in telling a brand story.
Choosing 5 of the most exciting pop-ups from 2018 isn't easy. And with pop-up retail picking up speed in markets across the world, we don't expect the job to get easier anytime soon.
Want to create your own show-stopping pop-up shop in 2018? Get in touch.